Raise a Floppa - The Loop
Play Sound


Allergic to fur is a new trait in The Sims 3 Pets for console. Sims with this trait will sneeze around pets.
Allergic to Fur Sims have a hard time being around furry animals without the near constant sneezing.
Attributes
[
]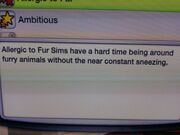 The trait lacks any use beside making one wish appear (Shoo Pet name) and it adds +500 lifetime reward points, and despite the description no moodlets are actually added when around pets.
Allergic to fur Sims
[
]
Andy Kingsley , Eleanor Dungworth, Dai-Xai Xu
Traits in The Sims 3
Absent-minded
Artistic
Avant garde
Bookworm
Can't stand art
Computer whiz
Eccentric

Excitable
Gatherer
Genius
Green thumb
Handy
Insane
Natural cook

Neurotic
Nurturing
Perceptive
Photographer's eye
Savvy sculptor
Unstable
Virtuoso
Heavy sleeper
Hydrophobic
Light sleeper
Loves the cold
Loves the heat
Loves to swim
Born salesperson
Brooding
Charismatic
Commitment issues
Dislikes children
Diva
Dramatic
Easily impressed
Flirty
Friendly
Good sense of humor

Great kisser
Grumpy
Hopeless romantic
Inappropriate
Irresistible
Loner
Loser
Mean spirited
Mooch
Natural born performer
No sense of humor

Party animal
Proper
Schmoozer
Shy
Snob
Social butterfly
Socially awkward
Supernatural fan
Supernatural skeptic
Unflirty
Adventurous
Ambitious
Angler
Animal lover
Bot fan
Cat person
Childish
Daredevil
Dog person
Eco-friendly

Equestrian
Evil
Family-oriented
Frugal
Good
Hates the outdoors
Hot-headed
Kleptomaniac
Loves the outdoors
Night owl

Over-emotional
Perfectionist
Rebellious
Star quality
Technophobe
Vegetarian
Vehicle enthusiast
Workaholic
Allergic to fur
Conversationalist
Cultured
Easily Bored
Easy going
Flip flopper


Gadget geek
Hyperactive
Loves water
Megalomaniac
Outgoing
Paranoid


People pleaser
Procrastinator
Shy
Sleaze
Vain
Witty

Hidden traits