Al Simhara

Al Simhara, Egypt is a land of exploration, danger, and archeological thrills. Sims venturing to this rugged locale are sure to find excitement in exploring tombs or hunting for lost treasure within ancient structures such as the Great Pyramids or Temple of Queen Hatshepsut.
Name
Al Simhara
Game
 The Sims 3: World Adventures
Onomatology
Al Simhara (السمهرة) is a pre-made destination sub-world that was introduced in The Sims 3: World Adventures along with Shang Simla and Champs Les Sims.
Overview
[
]
Al Simhara is an ancient land built against a river, full of magic and mystery. It is a land of mummies, pyramids, and crocodiles. It is found in Egypt and features activities and items drawn from Egyptian culture. The name is a reference to the Sahara Desert of Egypt. This town features fully explorable tombs and hidden tombs, including famous Egyptian landmarks such as the Pyramids, the Sphinx, and Temple of Queen Hatshepsut. Sims can explore these landmark tombs, thereby undertaking adventures. The company MorcuCorp features strongly in these adventures. It is an excellent subhood for Sims to improve their Photography skill. There are numerous pre-made families in Al Simhara, although they all, unfortunately, lack description texts and money. A trip to Al Simhara costs §1600 for one Sim and §1000 for each additional Sim.
Features
[
]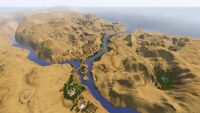 At night a gentle glow lights up at the bases of the Pyramids.
The entire world is so hot that there is a visible heat haze during the daylight hours.
Another mine monster is found here, in addition to those in Sunset Valley, Riverview, and Twinbrook.
Mummies will be lurking the tombs in this destination, and they can curse Sims.
There are fewer sims in this destination than in Sunset Valley, Riverview, or Twinbrook.
Exclusive Items
[
]
Lots
[
]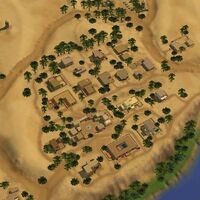 Residential lots
[
]
Inhabited lots
[
]
Vacation home lots
[
]
The Pomegranate House
The Acacia Palace
The Almond Tree House
The Lotus Oasis
Townie lots
[
]
Community lots
[
]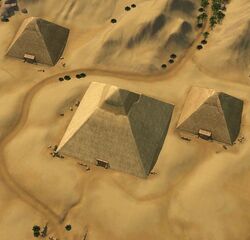 Tombs
[
]
See also: Al Simhara adventures
Al Simhara contains a variety of tomb lots as well as tomb puzzles on non-tomb lots. Each major tomb in Al Simhara has a distinct relic named after it.
Visible
[
]
Hidden
[
]
Bazaar Basement
James Vaughn Command Center
MorcuCorp Criminal HQ
Library Under the Sands
Graveyard Catacombs
Families
[
]
All Sims among these families have the Egyptian Culture hidden trait. NPCs generated in Al Simhara do not have this trait, instead they have the hidden trait connected to their job (e.g. Pizza Appreciator for Pizza Delivery), and other Sims such as Explorers have no hidden traits at all.
NPCs
[
]
Deceased Sims
[
]
Trivia
[
]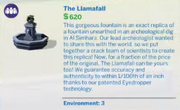 In The Sims 4: Get Together, there's a fountain which is said to be an exact replica of a fountain unearthed in Al Simhara.
Gallery
[
]