Académie Le Tour

Académie Le Tour prides itself on its careful balance of old traditions and new ideas. With a spacious campus and world renowned professors in every classroom, what more could a Sim want?
Name
Académie Le Tour
Game
 The Sims 2: University
Onomatology
Académie Le Tour (French pronunciation /akademi lə tuʁ/) is a sub-neighborhood that appears in The Sims 2: University as a college. It is the only college that does not start with fraternities or sororities. Players often pair this college with Veronaville.
Lots
[
]
Residential lots
[
]
Inhabited
[
]
Uninhabited
[
]
Dormitories
[
]
Community lots
[
]
Families
[
]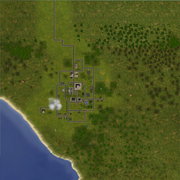 Playable families
[
]
Townies and NPCs
[
]
These townies have their names randomized when the sub-neighborhood is created. Their names are only referenced in the game files.
Townies
[
]
NPCs
[
]
Trivia
[
]
Although Veronaville is the ideal neighborhood for Académie Le Tour, there is no connection to Shakespeare other than the Globe Amphitheater, nor is there a connection to the Capps or the Montys.
This college was also used in IGN's Tutorial for University.
There is a residential lot in Champs Les Sims called Le Tour Tower, suggesting some connection between the French town and the university.
Académie Le Tour's street names all relate to pastries, mostly of European cuisine.
Gallery
[
]